Spacious Digital Electric Meat Smoker 21"
In need of an electric smoker to help you cook slabs of meat to perfection? Our meat smoker was built to enhance the flavor and aroma of any piece of meat that you cook.
Built with four thick metal legs, the digital smoker stands sturdily on top of flat areas while it cooks heavy slabs of meat. Its meat racks give the large cuts of meat a robust place to sit while they get smoked for hours.
Equipped with a removable water bowl, the digital electric smoker is capable of circulating moisture within the chamber. This way, you'll end up with juicy cuts of meat that will make all your meals unforgettable.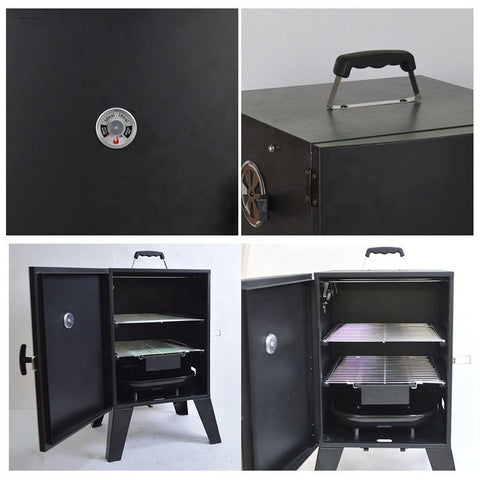 Best part of all, the electric smoker grill does not need an open fire to properly smoke the protein. Keep your smoking process simple and mess-free by using our premium and small electric smoker.
FEATURES
LARGE CAPACITY - Equipped with double tiers, the beef smoker can cook two slabs of meat at a time. This way, your waiting time will be cut in half and all the protein will be ready once you finish prepping the sides.
DURABLE - Made with high-quality metal, the electric meat smoker is durable and can withstand intense heat. It keeps its shape regardless of how many times it is used with high heat throughout the day.
TEMPERATURE CONTROLLED - Unlike grills and pans, the electric smoker has the ability to smoke meat at a consistent temperature. Smoking meat in stable heat ensures that every inch is cooked evenly, giving you juicy strips of meat each time.

SPECIFICATIONS
Color: Black
Assembled Product Dimensions (L x W x H): 800*400*1480MM
Material: Metal
PACKAGE CONTENT
1x Meat smoker
SHIPPING INFORMATION
Domestic Shipping (USA): Your digital smoker will be packaged and shipped within 3 days of ordering. Keep in mind our items are custom made and shipped from warehouses across the globe which means it may take them 7 to 29 business days to arrive after shipment (most of the time closer to 18). 

International Shipping: The digital electric smoker will be packaged and shipped within 5 days of order. We do ship worldwide! Please be patient and note that delivery times will vary depending on your location. Majority of the countries will have the electric smoker grill delivered within 2 to 5 weeks!
Our approach on golf is making traning and improving at the game a fun and engaging experience on and off the course.
Join the Par Masters family today!
When will I receive my order?
We ship items within 2-3 business days of placing your order. Your order will arrive depending on the shipping method sleceted during checkout.
Free Standard Shipping 2-3 Weeks
DHL Express Shipping 5-7 Days